一、Features:
1. Strong pumping capacity: the impeller and distributor are optimized to increase the suction and exhaust area
2. Efficient operation: The gas is drawn and discharged evenly along the distribution plate. The vent equipped with flexible valve plate can automatically adjust the exhaust Angle to avoid over or under-compression.
3. Anti-cavitation strength: equipped with anti-cavitation device and the distributor also has corresponding cavitation holes.
4. Strong adaptability: when overflow part is sprayed with high molecular coating or over-flowing surface sprayed with non-metallic material layer (the company's patent), it can meet the requirement of very demanding corrosion protection; At the same time, its smooth surface can effectively reduce the sediment of the ash and slow down the scaling process.
二、Model Description:
Single pump model representation method:
1, 2, 3, 4, 5, 6, 7, 8
2, B, E, 1
1, 2, 3, 4 -- single stage liquid ring vacuum pump
5, 6 -- nominal radius of impeller (cm)
7 -- code name for impeller width and diameter ratio
8 -- minimum suction absolute pressure
Description method of complete unit
1, 2, 3, 4, 5, 6, 7, 8, 9, 10, 11, 12, 13
2, B, E, 1
1, 2, 3, 4 -- single stage liquid ring vacuum pump
5, 6 -- nominal radius of impeller (cm)
7 -- code name for impeller width and diameter ratio
8 -- minimum suction absolute pressure
9 -- pump structure material code
10 -- transmission code
11 -- shaft seal type code
12 -- code of direction of pump exhaust port
13 -- code number of rotation speed
三、Spectrogram: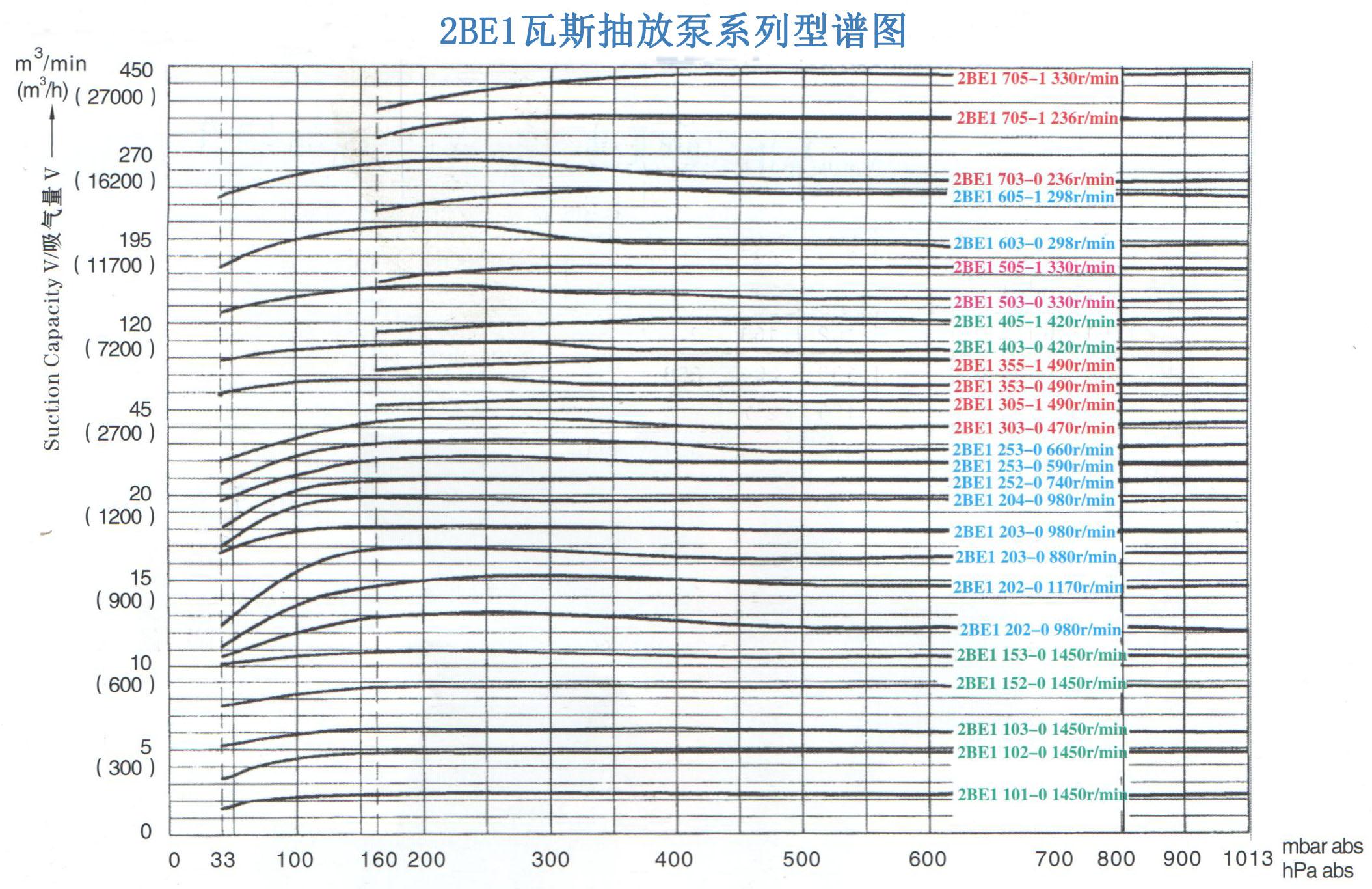 四、Application field:
Coal mine: gas drainage, vacuum dewatering, etc
Petrochemical industry: gas pressure, vacuum system
Paper industry: vacuum dehydration
Iron and steel metallurgy: vacuum dewatering
Cigarette industry: cigarette machine negative pressure system, vacuum moisture-proof