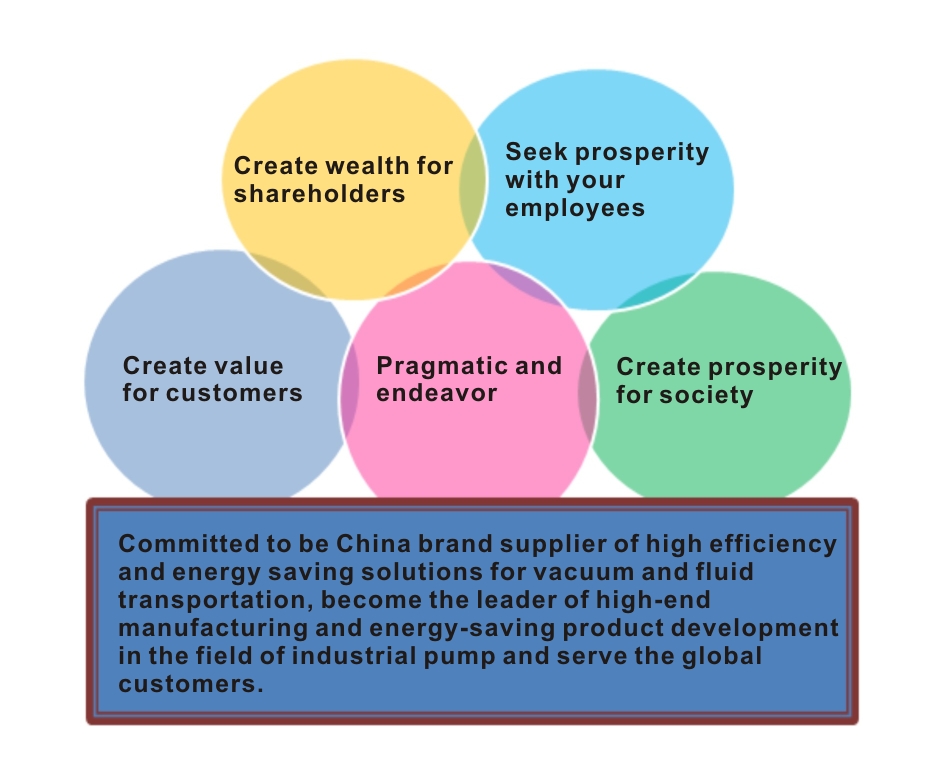 The company's overall development strategy is based on the two cores of "liquid ring vacuum pump and new materials". It builds "five identical parties" around the three main lines of "product-related diversification, market development and internationalization, and organizational development and ecologicalization". ", "brand TONFUN", "innovative TONFUN", "benefits with the same side" and "cultural TONFUN". Specifically, it will rely on product technology innovation, product branding, management innovation drive, employee quality improvement, and efficient execution culture to support the sustainable development of enterprises.
The development of the pump industry is unbalanced, the structural contradictions are prominent, the homogenization phenomenon is serious, the development of "specialized special products", and "specialized special enterprises" can also obtain certain pricing power in the market, using modern technology to inherit the craftsman spirit. Down-to-earth, the development is positioned to build an expert brand company in China's vacuum fluid field, and to be a well-known supplier of high-efficiency and energy-saving comprehensive solutions in the field of vacuum and fluid transportation in China. This is the basis for our development strategy. In the period of surplus economy, under the environment of Industry 4.0, which was born by the Internet and the Internet of Things, the manufacturing industry will transform into a manufacturing service industry. Products will serve as a carrier of services, and pump manufacturers will complete product providers to integrated solution providers. Transforming to maintenance service providers and energy managers.
The company has tilted more resources to the high end of the two industry chains of brand marketing and product and technology innovation. The manufacturing only solves the problems with and without, and does not solve the problems of more or less. The daily operation is mainly to manage the external management. Cash flow management and quality control capabilities enhance the core competitiveness of TONFUN's product strength, promotion and brand power.
The company adheres to the "six roads" of scientific development: adhere to the combination of internal intensification and external development; take the development path of combining limited and diversified specialization; branding, differentiation, The road to systemization; take the road of digestion, absorption and innovation; take the road of development combining domestic market and international market; take the development of solid industry and make the product line development of liquid ring vacuum pump "full range, all fields" .